Business and social life
There has been a lot of activity in Tuupala. It has functioned as inn, guest hostelry, several shops, post office, pharmacy, dairy, reformatory or orthodox children, library, dentist, maternity clinic and several associations. In addition house has been official residence of rural police chief, the office of military stuff and center of both communal and social life.
Agriculture and cattle breeding
In the end of the 19th century Tuupala had tar industry and there were also some reindeer husbandry. First watermill was built in 1778 and alongside it home sawmill in 1856.
Husbandry has been a basic activity in Tuupala. At its highest farm were about 404 ha and there were a lot of cattle. In the barn plan there were places for 18 cows in 1929. Husbandry ended in 1950s. Farm`s products sold directly to town`s people until 1950s. Most of the people and shops had mutual milky agreement.

Dairy cooperative of Kuhmoniemi started in 1907 which ended in 1910. Churn from Kajaani is still in museum.
Guest hostelry
Guest hostelry was part of the Tuupala in two sections: from 1860s to the end of the 1915 and between 1926 and 1939. Until 1883 guest hostelry`s guest treatment and suspension was prescribed for certain house and municipality paid the compensation.
At first there was only one passenger room, from the 1896 there were two rooms and in 1926 three rooms. In 1930s house had a door bell for night visitors. There was also Standard Vanguar car which was part of the guest hostelry.
Shop
First shop in Kuhmoniemi (Kuhmo since 1937) was founded in to Tuupala by Juho Reijonen in 1860s. Reijonen was from Kiihtelysvaara and he lived in Tuupala between 1868 and 1869. Shops of the Juho Kokkonen and P. J. Kainulainen were operative in 1875-1884. Heirs of P. J. Kainulainen had a shop in Tuupala until 1906. Kainulainen family made shopping trips even to St. Petersburg. Many of the furniture and lamps are from that time.

Pharmacist F.O.Molander held the first pharmacy (dispensary) in 1890–1892. Entrance to the side building was from the side of the Tervatie.
Post Office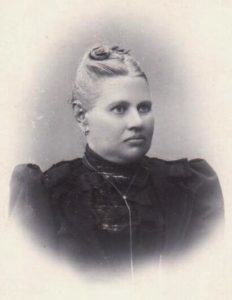 Photo: Postmaster Sofia Swahn
Tuupala was also the place of the first post office in Kuhmo. It was founded in 1978. The first postmistress was Sofia Swahn. After Swahn got married Anna Harlin became a new postmistress in 1885 and next year the post office moved to the elementary school.
Post office came back to Tuupala in 1920s. The mail was transported by stagecoach during the night and there was room for some passengers, too. The first postal bus line service from Kuhmo-Sotkamo-Vuokatti road started in 1931. Large cottage of the side building became garage. Old the oven was demolished, little brick oven was laid to the doorway and the south wall got double doors for two cars.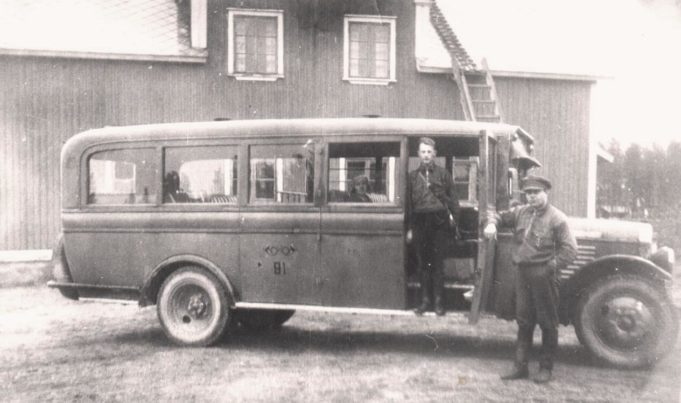 Photo: Mail driver Jalmari Klemetti and collector of payments Tauno Pitäjämäki in 1930.
Just before Winter War and Armistice there was field post office.
It got name European most wonderful post office by postal inspector from Helsinki. Inspector thinks that post office did not answer the time standards. People got service in light of an oil lamp.
Long-time postal manager was Lahja Kainulainen. Post office moved to the center Ruokola in the begin of the 1951.