Garden and the dogs
In garden there is few sorbus, gelder roses, roses, elephant`s ears, burning loves and bleeding hearts. Behind the actual garden is the burial ground for the dogs of Tuupala.
Actual garden is the behind the main bulding. There is in 1880 planted larches, stone pines, firs, guilder-roses, sorbus, hackberries and junipers. Perennials flowers are globeflower, iris, brow lilly, day lilly garden, leopars`s banes, columbine and the lilly of the valley. In garden there is also this geometric sandy corridor and some seats.
Roses of the Tuupala`s garden are: summer rose (rosa poppius), ramanas rose (rosa rugosa), rugosa roser (rosa x spaethiana), burnet rose (rosa pimpinellifolia), church rose (rosa francofort) and staffa (rosa staffa).

At the end of the kitchen is located strawberry land, currant bushes, garden plot and two cellars. One of the cellars was the ice cellar where the ice was transported in late winter. Another garden plot was behind the grannar-woodshed. Behind the garden was burial ground for the dogs of Tuupala.
Dogs who were buried in the garden
Traditionally there have been spitz dogs in Tuupala.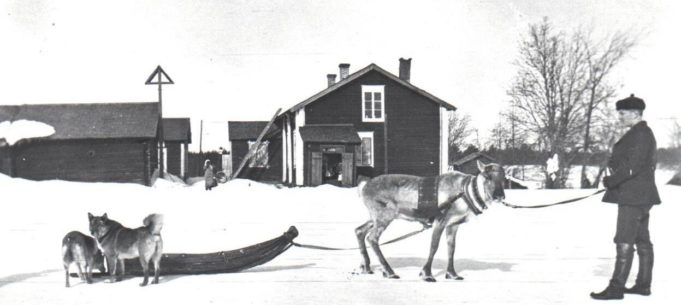 Photo: Dogs are wondering while reindeer pulls Lapp`s sledge in winter 1911.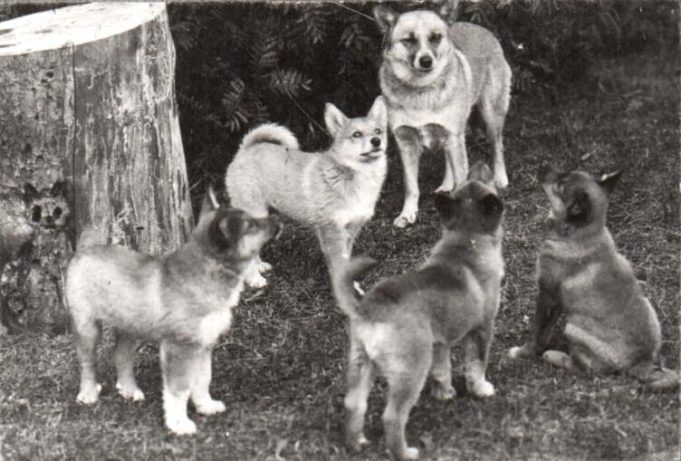 Photo: Dog called Piska and her little puppies in 1910.
When Lahja Kainulainen arrived from Vilppula to Tuupala she brought along dog called Purre. Purre was evacuated with Lahja during the Winter War even though animals could not be taken. Purre`s baby was killed before evacuated. For her last years Purre was deaf and very old. She was killed by a mail truck in 1940s. She is buried behind the garden where the place is leaved by bulge. Purre has also puppy called Vinski.
Dogs were sleeping in dogs beds in the main building. They were sleeping for instance in dining room and bed room of the hostess. There were two beds that places were exchanged. When dogs were sick they sleeps next to the people`s bed. In dog bed there was mattress (made of old jacket) and usually the cover was some old blanket. Taru was sleeping in Uuno`s room and the corner of the living room.
Taru boxer was only 3 when she died for lung rejection. Lahja Kainulainen took Taru to Helsinki State`s horse hospital where dog died. Taru was cremated in Helsinki. Cinerary urn was retained on the high bookcase in master`s room for a long time. Later Taru`s ashes was moved to the biggest round type flowerbed in garden.
Burial ground for the dogs was located behind the actual garden near the Hyryntie (between Hyryntie and cellar). Carpenter Priimus Niskanen made wooden chest for dogs.
Photo: Purre  about in 1937       Photo: Taru 1949 – 1952